The following review was posted by the Toronto Knitters Guild in Member News on July 11, 2021.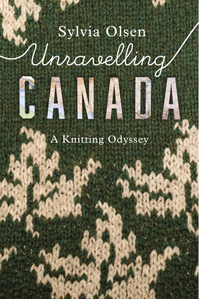 In 2015, Sylvia Olsen took a road trip that started out as a book tour but evolved into a series of knitting workshops at various locations across Canada. Unravelling Canada: A Knitting Odyssey is her reflections completed seven years after the trip. One reader described the book to me as a "travelogue," but I think of it as an acutely contemporary meditation on the origins and nature of Canada. Central to the book is the process by which Olsen comes to appreciate the country's present-day diversity, built up over the centuries. She begins her tour on the West Coast as "an ambivalent Canadian" but ends on the East Coast a "hopeful" one, and the progressively gentler tone of the book parallels this evolution. 
Olson, who did her master's thesis on Coast Salish knitting, identifies herself as a knitting historian. At the age of seventeen she married into the Tsaertlip First Nation near Victoria, B.C., and she developed a close relationship with her mother-in-law, a Coast Salish woman who learned to knit as a little girl and lived to be ninety-eight. Olsen is able to examine the yarn and construction of a sweater to determine whether it is in fact a Cowichan Sweater as distinct from a Mary Maxim or a White Buffalo sweater. She is knowledgeable about the differences between Coast Salish colourwork and Fair Isle stranding. She also explores, albeit briefly, the charged notion of  "cultural appropriation" which, according to her, can be applied in "areas where it does not belong" such as knitting. 
The details of the author's road trip and her analysis are regularly punctuated with the anecdotes of knitters who attended workshops that took place during the 2015 tour. Indeed, these are some of the most compelling parts of the book. There are stories about boyfriend sweaters, of course, and one tender tale of a woman nightly frogging and reknitting the work of her once-expert mother who had  lost the capacity to knit. In the mornings, her mother would pick up the reknitted work and exclaim, "There are some things you just don't forget. I never lost my touch." 
Unravelling Canada is not a knitting book per se, and it does not contain photographs, knitting patterns, or instructions. Nor, despite the author's specific expertise, does it resemble reference texts like Starmore's Book of Fair Isle Knitting, Pagoldh's Nordic Knitting, or Gravelle LeCount's Andean Folk Knitting. Nevertheless, the book offers much learning. For instance, most readers will know about the internment of Japanese Canadians during World War II, but few probably know that a Cowichan Sweater was one of the few personal possessions that some of the imprisoned men were able to take with them. Those surviving garments are now treasured family heirlooms. 
Readers who regard knitting as an individual activity or a private, spiritual practice may be disconcerted by the political tone of Unravelling Canada. Others will be confounded by terminology such as "settler" or stereotypes like the penny-pinching Scot and "central Canadians who assume they represent the real Canada." But those willing to relax into the anecdotes of knitters across Canada and to look at knitting through a sociological lens will find plenty of content to stimulate their thinking.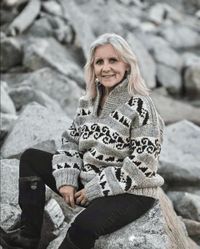 Genevieve Chornenki is an emerging writer and poet who knits. Her yarn stash contains purchases from Prince Edward Island on Canada's east coast to Quadra Island on its west coast. Her most recent book is Don't Lose Sight: Vanity, incompetence, and my ill-fated left eye (Iguana Books, 2021).